Sep 24th, 2022 | On organising my life
I'm usually overwhelmed with work, side projects and every other thing that usually happens in a person's life. Week in and week out, I'm always playing catch up because my attention is divided into a lot of things.
It's time I end this madness.
The fear of being broke and not being up to my mates is what pushes me to do or be as many things as possible and it sucks.
When I wrote this article, I am a Growth Manager for a Saas project, a Customer Support specialist for a fintech project, a Growth Marketer for another fintech, and a Product Marketer for a friend who's trying to grow his Tattoo business. There's also a music publishing hustle where I help up-and-coming musician publish their music on streaming platforms; Apple Music, for a small token.
I've resigned or called it a quit to all projects aside from 
Aku Fintech Inc
 where I work as a Customer Support Specialist. It's a job I intend to keep for a long time because it's a great place to work and the incentives are good.
I've deleted, reorganised and reduced everything (work and side projects) to just four tasks on my todo app, 
TickTick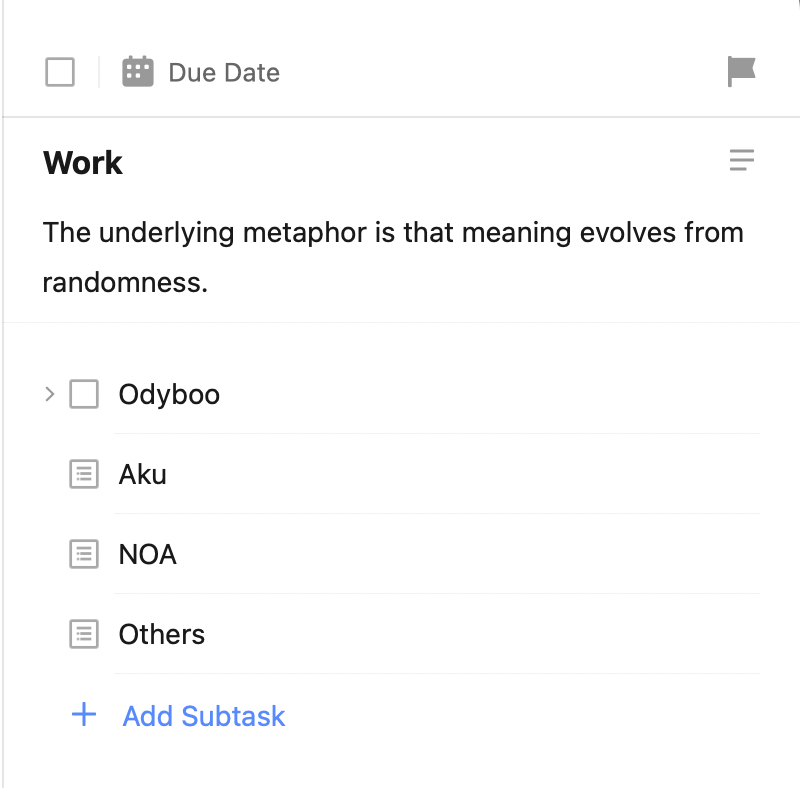 Odyboo (o-di-boh)
This is a family hotel business I inherited from my dad after he passed away. As the first son, it is my responsibility to make sure the business runs and grows with the education my parents gave me.
My mum runs the entire show; dealing with the Lagos State Government and running the restaurant. Then there's me who makes sure the facility (Generator, environment, building, water, staff etc.) are properly managed and always in check.
Odyboo involves meeting new people every day and following a checklist. There's nothing that demands much creativity.
To my friends reading this; that's why I barely go out on weekends.
Aku
The product team at Aku just published our app live on the 
play/app
 stores for public downloads and things are breaking(bugs) and customers are complaining.
I work 9 to 5, Mondays to Fridays, to answer these complaints, escalate them to the engineers and offer a resolution to customers.
As we grow, they'll be more customers reaching out to support. Aku will be more creatively, energy and time demanding coupled with corporate tasks like meetings, reports etc. But it's something I can handle. Fingers crossed 🤞
NOA
Not obvious Applications (NOA) is a newsletter publication about apps, websites and tech made by African creators. Imagine Product Hunt but for obscure apps made by Africans.
I got the idea when a friend asked me for a recommendation for a wallet app he can use to collect money from his sister in the US. I thought if fintechs are so popular, why is this guy asking for my recommendation? that's how NOA was born.
At the moment, I occasionally read about newsletter hacks. I'll start working on a landing page for it and setting up an email tool at the end of the year. The first edition goes out next year. Fingers crossed 🤞
Others
Others are for quick-money projects.
I can use Figma. I have friends who occasionally ask me to make posters for their cake or fashion business and they'll pay me ₦2,000. Also, I have the surest gadget plugs in Computer Village, Ikeja. My friends trust me to always get the best iPhones, chargers, headsets etc. for them. After purchase, they'll find me something.
What's different this time is this theses type of work will be on my own terms and at a really free times.
No pressure. No deadline.